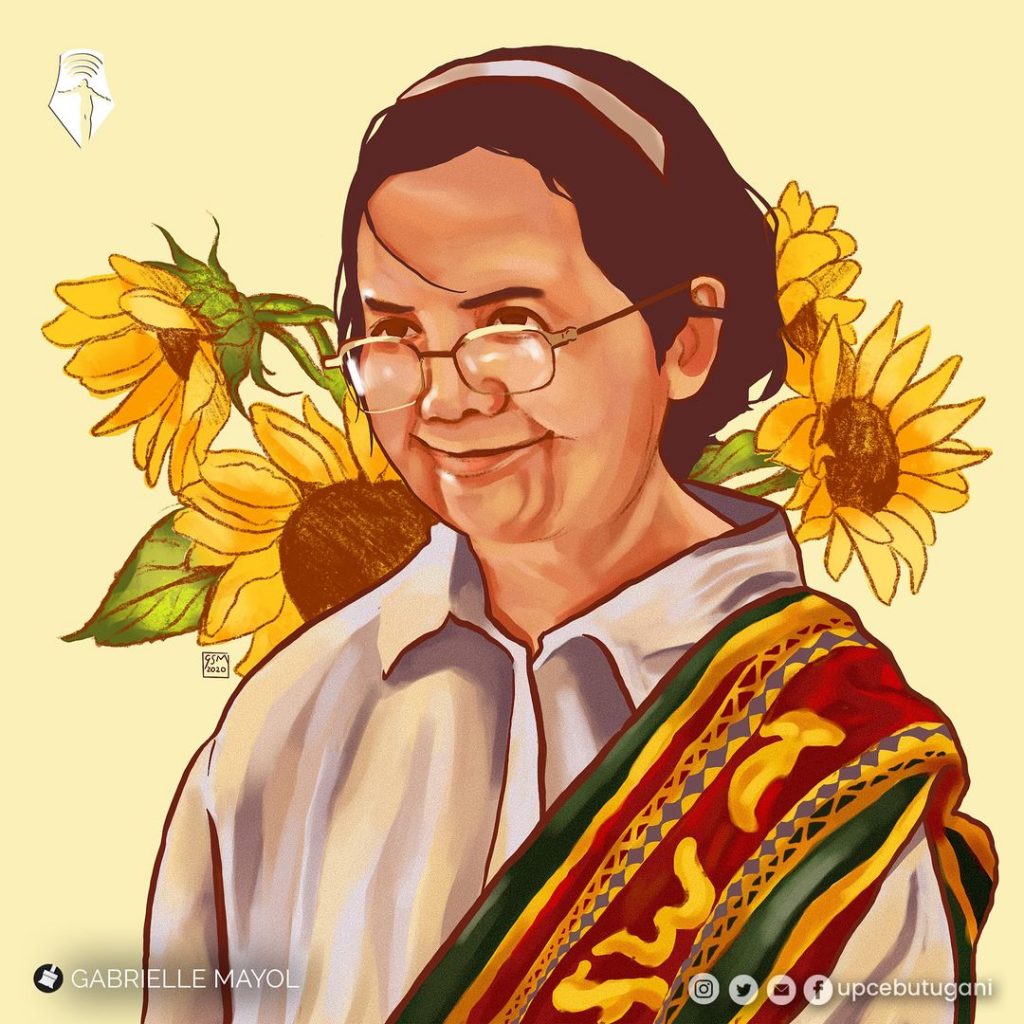 Daghang salamat ug pag amping kanunay, Miss G!
Dr. Flora Generalao of the Psychology Department, affectionately called "Miss G" by the UP Community, will officially retire from professional work this May 30, 2021, after more than 25 years of service in the university.
Her passion for teaching and commitment to excellence leave a staunch legacy within the four walls of the campus that is rarely seen, let alone matched. Going beyond her dedication to her craft she has, in a deeper, more meaningful way, left a legacy of lives forever changed.
"Miss G is one of the professors in UP who showed compassion and empathy to her students under the remote mode of learning," Kaemarie Fernandez, a psychology junior, disclosed. "She would always remind us to rest and to look after our mental health especially in these trying times."
Fernandez further mentioned how the retiring professor never fails to be vocal about social issues, as the latter stresses that students should never be detached from the struggle of the masses. With all that Miss G discussed with her class, she mostly learned that psychology will always strive to serve the people—a lesson she will never forget.
Moreover, Willianne Gabrielle Delos Reyes, a second-year psychology major, expresses her utmost gratitude to Miss G for giving her comfort and clarity through her mere presence and guidance in the few classes she has been blessed to experience together with the professor.
"She is more than just a mentor, and a teacher, she is an icon that I can only aspire to become," she said. "Even though I may not be the brightest tool in the box, she had a way of making you feel that we all had the potential to be greater and better than we are in this current moment of time."
Students even shared some of their most memorable moments with the beloved professor. Third-year psychology student Aurelle Mace Cresencio confessed how even though her first class with the professor, Psychology Statistics, was filled with tears and removal examinations, Miss G was always there to check up on them especially in times when you start to doubt your skills.
Cresencio further disclosed her one-on-one sessions with Miss G during the most difficult times of her college life. Teary-eyed, she listened to Miss G's advice which more so helped her surpass what she experienced: "Daghan kaayo og lives [nga] na-touch si Miss [G] and usa na ko ato (Lots of lives have been changed because of Miss G and I am just one among many."
Of course, Miss G has touched the lives of not only her current students, but also former learners under her care, some of which even became her co-faculty in UP Cebu."
She [Miss G] shows care in even the smallest of things, like that time I was running all across campus doing errands for my org on a hot day. She spotted me and told me, 'Pag payong uy!' knowing my illness made me sensitive to sunlight. It's these small gestures of love that constitute the Miss G we know and cherish." writes Claire Michaela Obejas, an alumna of the psychology program Batch 2019. "Miss G is someone who personifies what it means to teach with compassion. More than teaching us psychology, she also pushed us to be better people. I cannot thank her enough for believing in us when we felt like we couldn't even believe in ourselves."
Sir Jonathan "Jo" dela Cerna, a current faculty member in the department, said that Miss G was a totally different person from the different perspective of a student and a co-faculty. "I wasn't treated as a low person…she even told me during a birthday greeting that she considered me a colleague and an equal, and Miss G quickly became my go-to person for all my questions. Miss G was always supportive of me finishing an MA degree, and was even kind enough to review my thesis and proposal."
"It will be hard," Sir Jo disclosed, "when things go back to normal, Miss G will no longer be in her office, no more casual conversations or joining her for lunch. You're used to the presence of Miss G then all of a sudden she's no longer there."
Sir Jo ended with encouragement for Miss G, saying "Miss G, you are the one-woman program for psychology. Enjoy your retirement, and don't forget about us…She didn't just mold me as a professional, but also as a person. She is a big chunk of my life and has been a part of my existence for the past almost ten years. I am more than grateful."
Collectively, the teachers, alumni, and students see Miss G as an icon, an advisor, a mentor, and an empathetic person above all else. No matter how scary the recitation or tear-inducing the locked examination doors, these stories always end with Miss G on a light note of comfort.
Now retired, Miss G will always be remembered as the pillar of the psychology program, a seeming paradox of demand for excellence and motherly love, with a dash of sass thrown into the mix for good measure. When we pay tribute to Miss G, we commemorate the good and bad, the scary and wholesome, but if one thing is for sure, every second of it is unforgettable.
Thank you, Miss G, for making our collegian lives unforgettable.
Clive Rabuya and Kurt Romariz
From: Tug-ani