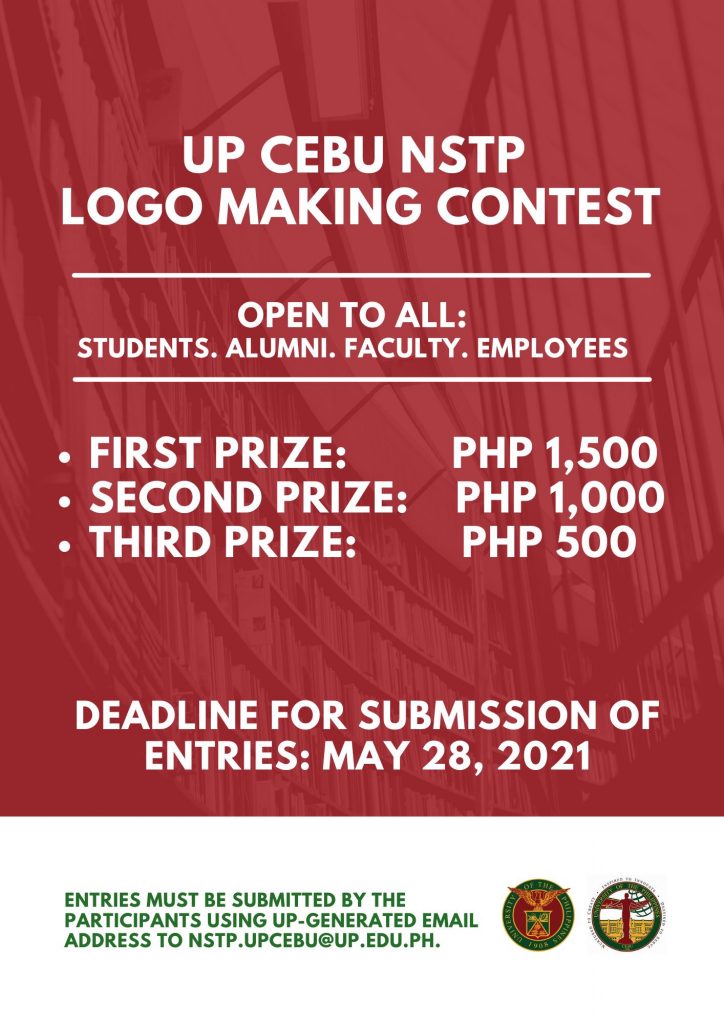 The contest is initiated to engage all members of the University of the Philippines Cebu Campus in designing a logo for its NSTP-CWTS program. It intends to showcase an innovative design that not only reflects the values of the institution as a public service university but also the Cebuano identity as a unique cultural community.
In this light, the following guidelines are drafted to keep the contest fair and accessible to all participants.
• The logo contest is open to all members of the University of Philippines Cebu Campus, including Students, Alumni, Faculty, Staff, and REPS.
• A participant is entitled to submit one entry only to give chance to varied ideas as much as possible.
• Each entry must be the participant's original work.
• Each entry must not have been submitted in other contests or promotional fares.
• Each entry must not have been used previously in whatever form to represent whatever entity or initiative.
The entries must be submitted to UP Cebu NSTP-CWTS official email: [email protected] for evaluation by the NSTP-CWTS Coordinator and Instructors. Entries must be in PNG or JPEG format and must include the full name, address, and contact number of the participants.
Criteria for winning entries are the following:
• Originality – the entry exhibits creativity and imagination in materializing the mission of UP Cebu NSTP-CWTS (30%)
• Relevance – the entry adheres and visualizes the UP Cebu NSTP-CWTS values and mission (40%)
• Aesthetic – the entry adheres with the UP visual identity guide and displays mastery in unifying aesthetic elements to create an appealing design (30%)
Prizes (include certificates and bragging rights):
• First prize: P1,500.00
• Second Prize: P1,000.00
• Third Prize: P 500.00
The deadline for submission of entries is on May 28, 2021.
Winners shall be notified through email on May 31, 2021. The list of winners shall also be posted through the official FB page of UP Cebu NSTP-CWTS.
All entries would become the property of UP Cebu NSTP-CWTS. As such, they may be used by the office for purposes it deems legally fit.