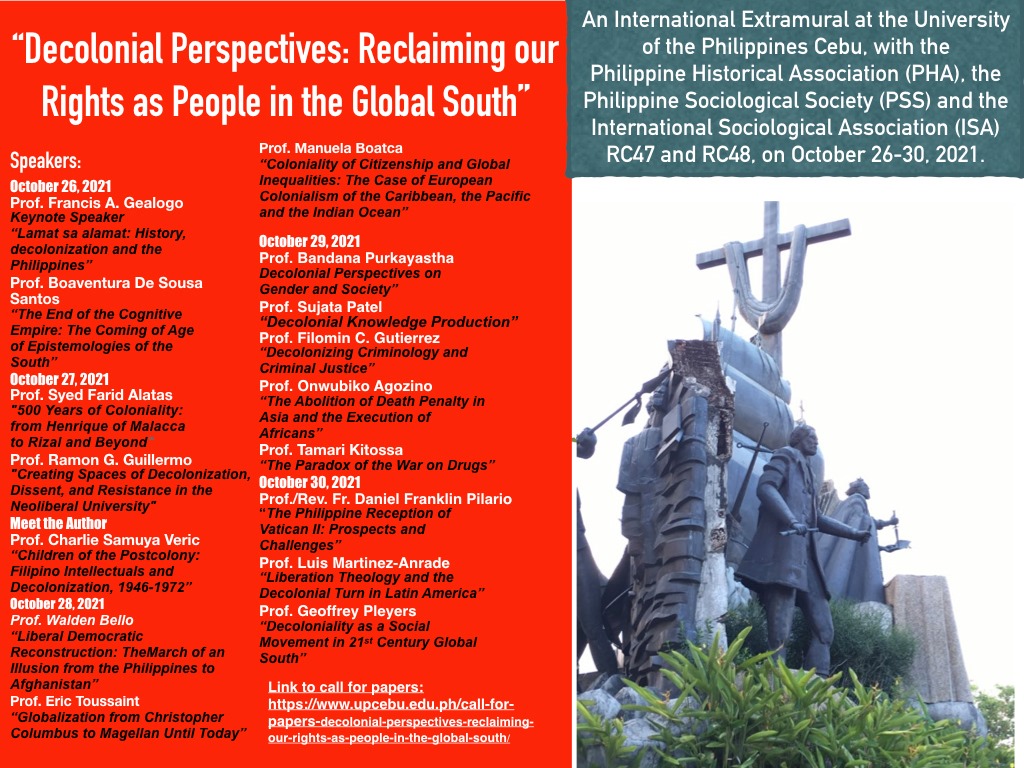 The UP Cebu College of Social Sciences (CSS), in collaboration with the Central Visayas Studies Center (CVSC), the Philippine Historical Association (PHA), the Philippine Sociological Society (PSS), and the International Sociological Association (ISA) RC47 and RC48, will hold a virtual international extramural on October 26-30, 2021. This is in commemoration of the 500th year of Magellan's Landing in the Philippines.
The CSS calls for a conference on the theme: Decolonial Perspectives: Reclaiming Our Rights as People in the Global South. The conference invites paper presentations that shall bring about narratives on the historical experience as colonized sub-national or national territory able to reclaim its position in the greater realm of an independent nationstate. Likewise, it invites conversations and/or discourse on the relationship between the historical experience and the recent social, political, and economic dimensions of national-global realities. Furthermore, the conference shall articulate theoretical and methodological models that may be crucial in putting forward arguments, claims, and themes in decolonial and other Global Southern approaches. In this manner, the conference shall foster Global Southern knowledge production to deterritorialize, decolonize, de-stratify, and democratize social knowledge production. The conference aims to gather contributions that shall problematize and theorize on the fields of Social Sciences, Philosophy, and Humanities from the perspective of Global Southern Scholars.
Abstract shall not exceed 300 words and must be uploaded in the google form, in this link: tinyurl.com/decolonialperspectives2021.
Please take note of the following dates:
June 30, 2021 at 12:00 noon (Philippine time): deadline for the submission of abstracts and panel proposals
July 30, 2021: notice of acceptance of abstracts/papers, return of abstracts/papers, and start of the registration period
September 5, 2021: submission of full papers for accepted abstracts
October 5, 2021: publication of Book of Abstracts (BOA)
October 5, 2021: creation of web links to each session
Paper submissions shall be sent to [email protected].
Please see the full details on the call for papers in this link: DP-ROR in PDF Format