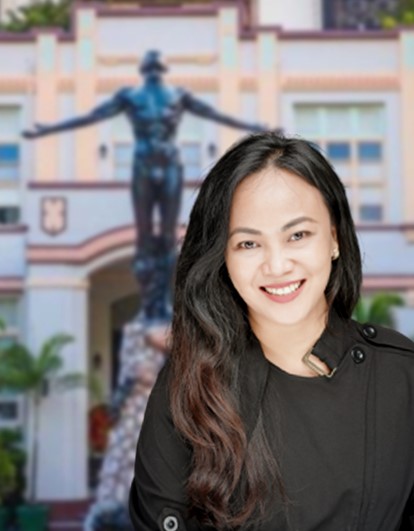 Weena Jade S. Gera, Ph.D.
Associate Professor
Dr. Weena Gera is Associate Professor of Political Science and former Vice Chancellor for Administration (Feb-2019 to Jan-2022) at the University of the Philippines Cebu. She has published and consulted on various governance analyses of the Philippines and Southeast Asia, including central-local relations, the politics of participation, bureaucratic representation, as well as governance for sustainable development and climate resilience. Dr. Gera received her PhD in International Development from Nagoya University (2009) under the Monbukagakusho scholarship. She has been awarded the JSPS-UNU (Japan Society for the Promotion of Science- United Nations University) postdoctoral research fellowship at the United Nations University Institute for the Advanced Study of Sustainability (UNU-IAS), Tokyo and the Integrated Research System for Sustainability Science (IR3S) of Tokyo University (2012-2014), and the OeAD-Ernst Mach Grants-ASEA-UNINET research fellowships at the Institute of Forest, Environmental and Natural Resource Policy (InFER) at the University of Natural Resources and Life Sciences (BOKU), Vienna (2016-2017) and the Vienna University of Technology (2022). In 2018, she was among the five recipients of the Gro Brundtland Award for Women in Sustainable Development, established by Dr. Gro Harlem Brundtland to recognize the contributions of distinguished female researchers in the developing region, in the field of public health and sustainable development. Then in 2019, she was conferred the Bernd Rode Award in the Senior Researchers category by the ASEA-UNINET for her research project on ecosystem services toward sustainable mineral development in the ASEAN. She was awarded the UP Scientist 1 rank under the UP Scientific Productivity System (Batch 2020-2022) as recognition of those who have distinguished themselves in their specialized disciplines. 
.
EDUCATION
Doctor of Philosophy in International Development
Nagoya University, Japan
2009
Master of Arts in International Development
Nagoya University, Japan
2006
Master of Industrial Relations
University of the Philippines Diliman, Philippines
2003
Bachelor of Arts in Political Science
University of the Philippines Visayas Cebu College, Philippines
1998
.
RESEARCH AND PUBLICATIONS
Check out Prof. Gera's academic profiles for recent research, publications, and engagements.