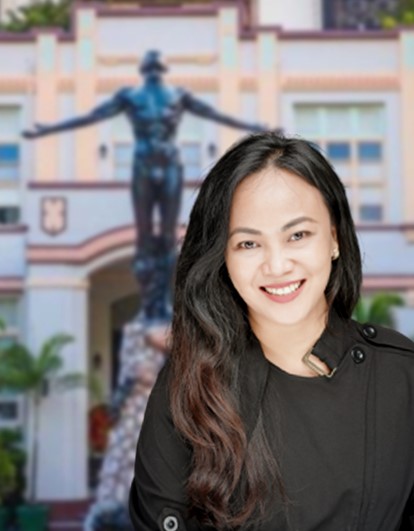 Weena Jade S. Gera, Ph.D.
Associate Professor
Dr. Weena Gera is Associate Professor of Political Science and former Vice Chancellor for Administration (2018-2021) at the University of the Philippines Cebu. She has published and consulted on various governance analyses in the Philippines and Southeast Asia, including the politics of bureaucratic representation, public participation, central-local relations, as well as governance for sustainable development and urban resilience. Dr. Gera received her PhD in International Development from Nagoya University (2009) under the Monbukagakusho scholarship. She has been awarded the JSPS-UNU (Japan Society for the Promotion of Science- United Nations University) postdoctoral research fellowship at the United Nations University Institute for the Advanced Study of Sustainability (UNU-IAS), Tokyo and the Integrated Research System for Sustainability Science (IR3S) of Tokyo University (2012-2014), and the OeAD-Ernst Mach Grants-ASEA-UNINET postdoctoral research fellowship at the Institute of Forest, Environmental and Natural Resource Policy (InFER) at the University of Natural Resources and Life Sciences (BOKU), Vienna (2016-2017). In 2018, she was among the five recipients of the Gro Brundtland Award for Women in Sustainable Development, established by Dr. Gro Harlem Brundtland in 2014 to recognize the contributions of distinguished female researchers in the developing region, in the field of public health and sustainable development. Then in 2019, she was conferred the Bernd Rode Award in the Senior Researchers category by the ASEA-UNINET for her research project on ecosystem services toward sustainable mineral development in the ASEAN.
.
EDUCATION
Doctor of Philosophy in International Development
Nagoya University, Japan
2009
Master of Arts in International Development
Nagoya University, Japan
2006
Master of Industrial Relations
University of the Philippines Diliman, Philippines
2003
Bachelor of Arts in Political Science
University of the Philippines Visayas Cebu College, Philippines
1998
.
RESEARCH AND PUBLICATIONS
Espia, J. C., Gera, W., & Hall, R. A. (2021). Local Adaptations to Central Government Shortcomings: COVID-19 Responses in the Cities of Iloilo and Cebu, Philippines. Contemporary Southeast Asia: A Journal of International and Strategic Affairs, 43(1), 53-62. [LINK]
Gera, W., & Hutchcroft, P. (2021, March 2). Duterte's tight grip over local politicians: Can it endure? New Mandala. [LINK]
Gera, W. (2020, June 5). Heightened contradictions: Duterte and local autonomy in the era of COVID-19. New Mandala. [LINK]
Gera, Weena. "SCALAR POLITICS IN PHILIPPINE URBAN DISASTER MANAGEMENT: REFRAMING METROPOLITAN GOVERNANCE FOR LOCAL RESILIENCE AND SUSTAINABILITY." Erdkunde 72, no. 4 (2018): 287-312. [LINK]
Abcede Jr, R., & Gera, W. (2018). Examining the coherence of legal frameworks for ecosystem services toward sustainable mineral development in the Association of Southeast Asian Nations. Ecosystem Services, 29, 228-239. [LINK]
Gera, W. (2016). Examining the resilience of public participation structures for sustainable mining in the Philippines. In Legal Aspects of Sustainable Development (pp. 203-231). Springer, Cham. [LINK]
Gera, W. (2016). The politics of ethnic representation in Philippine bureaucracy. Ethnic and Racial Studies, 39(5), 858-877. [LINK]
Gera, W. (2016). Public participation in environmental governance in the Philippines: The challenge of consolidation in engaging the state. Land Use Policy, 52, 501-510. [LINK]
Avtar, R., Herath, S., Saito, O., Gera, W., Singh, G., Mishra, B., & Takeuchi, K. (2014). Application of remote sensing techniques toward the role of traditional water bodies with respect to vegetation conditions. Environment, development and sustainability, 16(5), 995-1011. [LINK]
Otsuki, K., Gera, W., & Mungai, D. (2013). Multi-actor approaches to total sanitation in Africa. [LINK]
Gera, W. (2011). The crux of the crisis: a governance analysis of Philippine underdevelopment. Limits of Good Governance in Developing Countries. Gadjah Mada University Press, Yogyakarta, 39-70. [LINK]
Gera, W. J. (2008). Institutionalization in Philippine decentralization: Rethinking the bureaucratic imperative. In The Conference for New Public Management and the Quality of Government (pp. 13-15).
Gera, W. J. (2008). Central Bureaucratic Supervision and Capacity Development in Decentralization: Rethinking the Relevance of the Department of Interior and Local Government of the Philippines. In Forum of International Development Studies (Vol. 37, pp. 99-122). [LINK]
Gera, W. (2008). Rethinking bureaucratic institutionalization in Philippine political decentralization. Indiana Journal of Political Science. Winter, 2009, 28-41. [LINK]
Weena, J. S. (2007). Unregulated Central-Local Structures of Power: The Politics of Fiscal Decentralization in the Philippines. [LINK]
Villarama-Mende, R. V., & Gera, W. J. S. (2005). Gender Difference in the Coping Strategies of Employees Separated from Work: The Case of Cebu Plaza Hotel. Philippine Journal of Social Sciences and Humanities, 10(1), 63.
You can check Prof. Gera's google scholar profile HERE.